About the Session:  
In this fun, interactive session with author-consultant-guru David A. Fields, you're going to master the number one, most important principle in independent consulting: Right-Side Up Thinking. Like the game of Go, it looks easy at first, and the more you learn the more you realize there's a huge difference between average players and the very best.
David is going to share practical, tactical insights and tips about Right-Side Up Thinking that will help you attract more prospects and close more lucrative engagements.
But that's just the first 15 minutes. David has promised that most of the time will be open Q&A. And for all you PICA members who have attended David's sessions before, you know that part is incredibly helpful (and entertaining too!)
We reference David's book, The Irresistible Consultant's Guide to Winning Clients, in just about every workshop. This is your chance to learn from The Master!
Duration: 60 minutes, including 45 for Q&A
About the facilitator: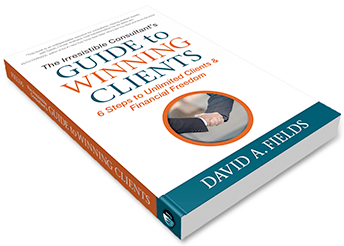 David A. Fields is the author of PICA's favorite book on consulting, The Irresistible Consultant's Guide to Winning Clients. As the founder of Ascendant Consulting, David is a true consultant's consultant who works with elite, solo and boutique consulting firms worldwide. He is also a bestselling author, speaker, mentor, and chocolate fanatic.